Keyword research strategies for SEO isn't something you do just once.
It is a continuous process that can have a significant impact on how you reach new leads and customers online.
By incorporating our keyword research recommendations into your digital marketing process, you will be able to make more informed decisions about strategy, implementation, and budget.
But how can you make the most of your keyword research for SEO?
Even if you're already using Google Keyword Planner to find basic keyword results.
We've compiled a list of expert keyword research strategies to assist you in taking your search engine optimization to the next level.
But, first, let's go over the fundamentals.
What is Keyword Research in SEO?
The process of identifying popular search queries that are relevant to the interests of customers is known as keyword research.
Businesses use this process to determine which search phrases are most commonly used by their target audience.
This is done in order for them to rank higher in search engine results pages (SERPs) and reach more potential customers.
What is the Importance of Keyword Research Strategies in SEO?
Keyword research is essential for SEO because it allows you to promote your company to a larger audience and generate more qualified leads.
The primary goal of SEO is visibility. Furthermore, by incorporating high-traffic keywords into your website, you will be able to climb higher in SERP rankings.
Additionally, those looking for your services will be able to find you more easily.
According to market research, the majority of site clicks go to the first few organic listings, so aim for the top.
And as your company becomes more visible, your chances of converting potential leads into loyal customers improve.
In other words, investing in keyword research can benefit your business in the following ways:
Appear to more consumers
Increase website engagement
Increase sales and revenue
So, now that you understand why keyword research is important, let's go over some strategies for conducting thorough and effective keyword research strategies.
7 Keyword Research Strategies
1. Use Negative Keywords
Including negative keywords in your targeting strategy is just one of many keyword research strategies that can help you take your SEO strategy to the next level.
Negative keywords are words that you do not want to target in your PPC campaign.
This allows you to narrow down the search engine users you want to reach in order to reach those who are a good fit for your business.
Assume you provide a service that is occasionally free, but your company wants to increase paid memberships or packages.
You might want to include the word "free" as a negative keyword.
This means that your ad will not appear in search engine results pages for phrases containing the word "free" in addition to keywords describing your product or service.
In Google Keyword Planner, you can add negative keywords.
Select "Keywords and Targeting" first, followed by "Keywords, Negative."
Then, select the ad group or campaign and click "add a negative keyword."
In the edit panel, type the negative keyword.
You can then specify that your ads will not appear for search terms containing the words you've identified here.
2. Create a List of Localized Keywords
Focusing on localized keywords and phrases is one of the best keyword research strategies for helping small businesses rank higher on search engines.
Many small businesses aim to reach out to local buyers who are close to their physical store locations.
The best way to accomplish this is to create content that targets localized keywords that a nearby consumer might use when conducting a Google local search.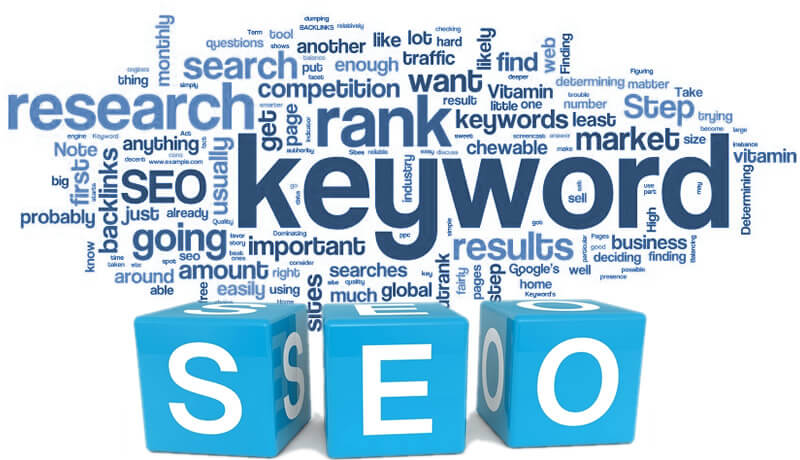 Begin by looking for keywords that include your exact location. For example, "San Diego plumbing" or "San Diego plumbers."
Then, expand to other areas in the surrounding region that you serve.
If your company frequently works with customers in neighboring cities then you should conduct keyword research to determine which keywords and phrases are commonly used in these areas.
This allows you to target customers across your entire service area.
When conducting keyword research for these localized keywords and phrases, you may notice that keywords targeting specific areas receive less overall traffic.
In comparison to more broad, generalized keywords.
But don't let this deter you from using these keywords in your content.
Despite having less traffic than broad search terms, they allow you to put your brand in front of local consumers who are ready to buy.
When creating a list of localized keywords, keep our keyword research strategies in mind, it's important to remember that how local searchers look for products and services online will vary.
To continue with the previous example, a homeowner could search for "San Diego plumbers," "plumbers in San Diego," or "best Plumbers in San Diego."
Examine all of your options for reaching out to local searchers, and don't be afraid to include long-tail keywords that may help you reach new audiences.
"San Diego plumbers with emergency services" is one example.
3. Examine the Keywords that Your Competitors Use
Do you want Google to rank your small business first? Then you must consider what your competitors are doing.
One of the most basic yet underutilized keyword research strategies is to look at the keywords that your competitors are targeting.
Knowing which keywords your competitors are using can give your small business a competitive advantage.
It can also assist you in targeting consumers who are searching for these keywords.
So, how do you begin? To begin, log into Google Ads and select "Search for new keywords based on a phrase, website, or category."
Then, rather than entering your own URL to find potential keywords, you will enter the URL of your most formidable competitors.
Following that, Google will provide you with a list of topics and keywords based on your competitor's website.
A list of keywords for a competitor URL is displayed here, along with important information such as average monthly searches and competition level.
To see what keywords and phrases your competitors are targeting on their own site, click on "Ad group ideas."
This list will provide you with a plethora of long-tail keyword suggestions.
As well as the volume and search demand for each keyword, as well as the levels of competition.
Also, don't assume that you should only target keywords with high search volume; this isn't always the case.
A keyword, for example, may have a high search volume but not necessarily a high number of clicks.
Examples include queries that, when searched, already have a "Answer Box."
Even if you rank high in the SERPs, it will be futile because the user will not bother clicking your link because the question has already been answered.
Look for keywords with a low level of competition and at least 1,000 monthly searches.
These keywords and phrases are worth your time and effort to target.
4. Utilize Google Suggest
Google, as one of the most popular search engines, wants to provide the best search engine results to its users.
So, why not use Google to learn what relevant consumers are looking for when they search for brands similar to yours?
Another great keyword research tip for small businesses is to use Google Suggest to find new keywords.
When you search for a specific keyword or phrase, Google suggests alternatives.
As soon as you type in the search term, Google displays a list of related and relevant search terms below it.
This can provide your small business with a plethora of new keyword opportunities.
You only need to do the following:
Begin with a list of broad keyword terms
Enter them into the Google search bar
Examine the search engine results for similar keyword phrases
Other suggested search phrases that appear when you type in "women's shoes" can be found here.
This tool is so valuable because it gives you access to some of the insights that Google has gleaned from studying searcher behavior.
For example, Google begins to recognize when a search engine user must type in multiple phrases before finding the search results that they are looking for.
Google offers relevant search suggestions to help users find accurate search results quickly in an effort to provide better search results to users.
To use this resource, simply go to Google and enter some of your most popular keyword search terms.
You'll notice that as you type the word or phrase into the Google search bar, Google suggests a list of additional keywords that you might be looking for.
These keywords and phrases can be added to your list of potential keywords to target.
Google's list of suggestions is updated every 2 to 3 weeks.
This means that when you type in relevant keywords, the list of suggestions that appears, reflects the most recent keywords and phrases searched for on the search engine.
Simply scroll to the bottom of the search engine results page to get even more suggestions.
Then look at the "searches related" to the keyword you entered.
This will provide even more suggestions for potential keywords that search engine users are looking for when researching a product or service.
It's also possible to look for suggestions for keywords that are at the beginning or middle of a phrase.
This is referred to as a wild card. To get suggestions, simply insert an underscore (_) character anywhere in your key phrase.
For example, if you search for women's shoes in Google, you'll get results like this.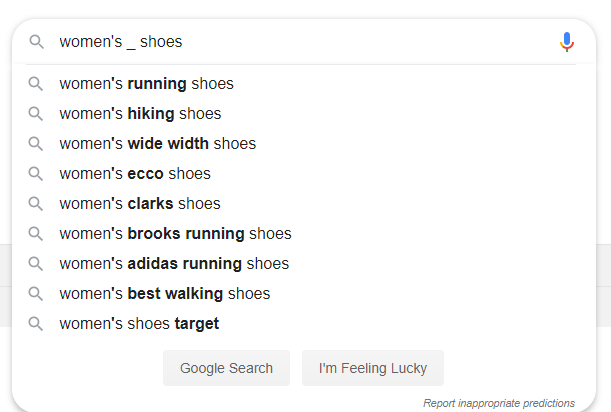 5. Identify frequently asked customer questions
Find keyword research ideas in the questions your customers ask.
One of the best ways to improve your SEO rankings is to create content that addresses the most common questions or concerns that your target customers have.
By identifying the most frequently asked questions and developing content that answers these questions, you can increase your chances of reaching consumers who are looking for answers on search engines.
There are a few different approaches you can take to learn what questions people have about your industry or products and services.
One approach is to go directly to the source. Inquire with your best customers about the questions they had when they first started researching brands like yours.
What were their worries? What information did they require before making a purchase?
Customer surveys or interviews are an excellent way to obtain this information quickly.
Inquire with your sales department about the questions your customers are asking.
Your sales team has direct contact with customers and is frequently asked questions about your products or services.
Inquire with your sales team about the most frequently asked questions from new prospects.
After you've polled your current customers and obtained some sales insight, it's time to turn to tools that will broaden your keyword research even further.
Answer the Public is a useful (and free) tool for discovering what questions people have about your industry.
This helpful tool allows you to enter a general keyword related to your business.
Then it returns a list of questions that people ask when they use search engines.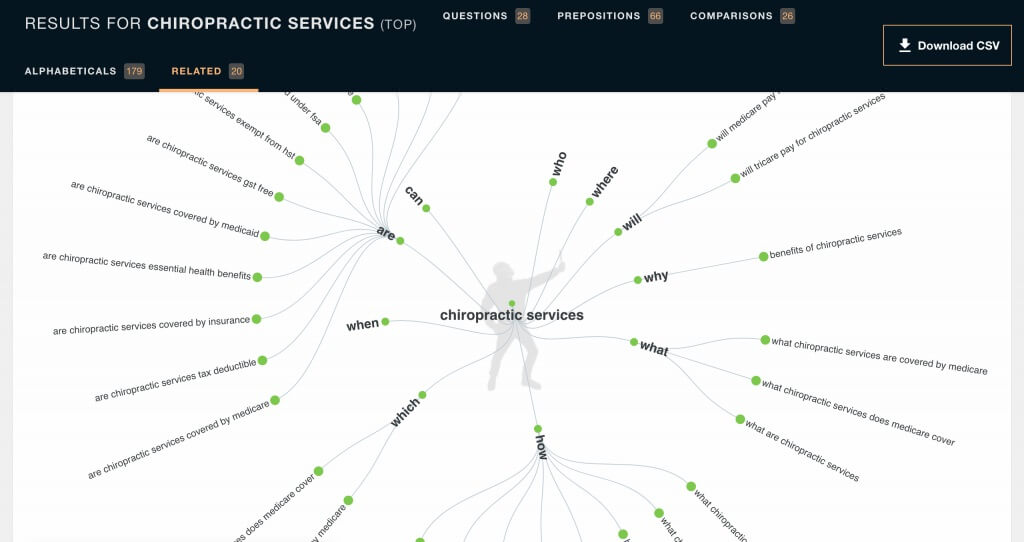 Here is an example of some of the questions that appear in the search results for the term "chiropractic services."
Once you have these keyword phrases, you can use Google Keyword Planner to look at keyword frequency and competition.
Use this information to refine your list and identify the questions that are most worthwhile to target with your content.
6. Look at Google's "People also ask" section
In addition to using customer research and other tools to find common questions.
Additional questions can be found by looking through the "People also ask" section of the Google search engine results page.
When you type a question into the search bar, this section appears in the search engine results.
Here's an example of a question that appears in the Google search bar when you type "What are chiropractic services?"
These are the most frequently asked questions related to the question you searched for.
This is one of our favorite keyword research strategies because it allows you to uncover even more valuable questions that your leads and customers may be asking online.
By creating content around these frequently asked questions, you can work to reach new leads who are looking for answers online.
Again, you'll want to enter some of these questions into Google Keyword Planner to see which keyword phrases are worth targeting.
7. Try using an SEO toolbar
You can improve your SEO game by using a variety of search engine optimization tools and toolbars. MozBar is one of our favorites.
This industry-leading SEO toolbar allows you to instantly access and compare key metrics across website pages on the search engine results page.
You can also look at rankings for page authority and domain authority.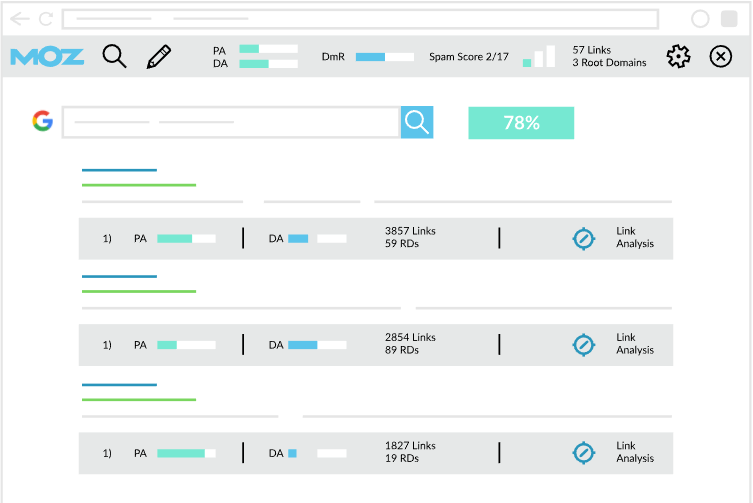 MozBar is an SEO toolbar that displays metrics when you are viewing a site page or a search engine results page.
MozBar simplifies SEO keyword research by assisting you in understanding your visitors and what they look for when searching for keywords online.
You can track both local and national searches to better understand what search engine users see when they search for specific terms.
This tool will also crawl and audit your site to identify any issues that are preventing you from getting the most out of your SEO efforts.
Final Thoughts
These keyword research strategies will assist you in going above and beyond basic keyword research to uncover a plethora of new keyword opportunities.
But keep in mind that keyword research is only one piece of the puzzle that is search engine optimization.
Many other factors, such as how you use keywords in your content and how you structure your site design, can have an impact on SEO.
That is why many small businesses choose to work with an SEO firm.
These businesses can advise them on how to improve their online visibility and attract more qualified leads.