How Can SEO Management Help Your Website Rank?
Our client was able to rank on 136 first pages for over 2,000 Google keywords by utilizing our agency's SEO management service.
Furthermore, our client earned more than $300,000 in revenue from organic traffic.
Because we're going to share with you today some SEO management tips to help you rank #1 on Google.
If you're new to SEO or want to learn more about SEO management services, this is the post for you!
SEO stands for Search Engine Optimization.
This is the process of optimizing your website to appear near the top of search engine results pages.
When you search for a product or service on Google, the first unpaid or "organic" websites that appear are the result of SEO.
SEO has become much more difficult in recent years.
Previously, you could simply stuff your website with keywords and expect to be rewarded with the top spot on search engine results pages.
The Google algorithm is constantly evolving, forcing businesses to put a lot more effort into their blogs and websites in order to rank high.
In fact, you can read about the new Google algorithm update in this post.
As a result, businesses must now compete for first-page Google rankings based on their common targeted keywords.
Given that only 6% of people click past the first page of Google results, it's no surprise that SEO is a difficult task.
But don't worry; in this piece, we'll teach you how to use several SEO management services to manage your SEO ranking.
We'll look at an example of SEO, discuss why it's important, and explain how Google's algorithm works, among other things.
Plus, you'll want to read all the way to the conclusion because we'll share three bonus SEO management techniques later.
So, if you're ready, let's get started!
SEO Case Study
Let's look at an example of SEO now that we've defined it.
Assume we are planning a ski trip and want to look for "water bottles for skiing." This will be our keyword on Google.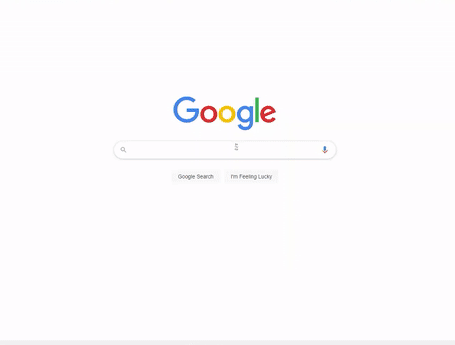 Keywords are simply words or phrases entered into a search bar.
In this case, our keyword is "skiing water bottle." Despite the fact that it is made up of four words, it is technically only one keyword.
So, when we press the search button, we see all of the results for this keyword.
We can see all the links to websites, online stores, and articles that use this keyword as we scroll.
All of these are organic search results.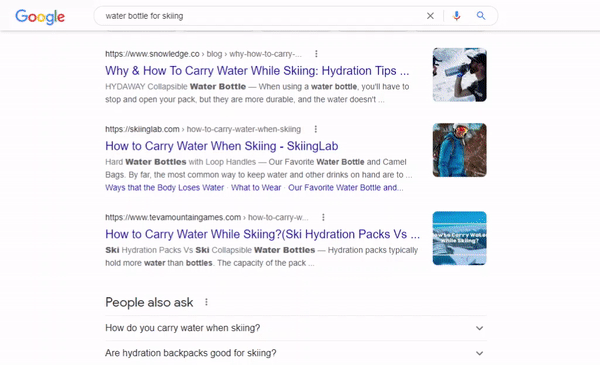 This means that these companies did not pay Google to be listed on the search engine results page.
This is unlike SEM or PPC ads, where the word "Ad" or "Sponsored" appears next to the website URL.
Let's talk about why SEO is necessary in the first place now that we know what SEO is and what an example of SEO looks like.
The Importance Of Search Engine Optimization (SEO)
So, why do we need SEO? What good can ranking your website first do for your business?
SEO has two major advantages: it benefits both your business and your customers.
SEO can benefit your business by driving a lot of traffic to your website by ranking first on search engine results pages.
SEO can also drive targeted and relevant traffic to your website.
This is preferable since you will be presenting your company in front of people who are actively looking for you.
So, what causes this?
Consumers are connected to businesses that sell items or services that solve their concerns through SEO.
People don't want to scroll past the first page, let alone the first few results, because they're seeking for the quickest solution to their problems.
According to studies, the first five organic results on Google account for 67 percent of all clicks.
SEO management benefits your customers because they rely on SEO to find solutions to their problems.
For example, if you needed to hire a lawn mowing service, where would you begin your search? I'm guessing Google.
Your prospective customers are no exception!
You already know that customers are searching for products and services online, make their path to your business as simple as possible by utilizing the Google algorithm for SEO.
Knowing the Google Algorithm
Google is the world's most popular search engine.
It accounts for more than 92 percent of the total search engine market share and processes approximately 3.5 billion searches per day.
YouTube, Yahoo, Bing, and Amazon are also popular search engines worth noting, but none of them can compete with Google.
So, what is it about Google that makes it so popular?
The mission of Google is to organize the world's information and make it accessible and useful to all of its users.

That comes with a lot of responsibility.
Consider why you use Google's search engine. Probably because you believe it will provide you with the most relevant information, right?
Google has a reputation to uphold, and in order to do so, it must have a complex system in place to produce the best results.
Over 200 factors are used by the Google algorithm to determine what is relevant to your website.
We won't have time to go over all 200, so let's focus on the ones that are most important for your own business.
Relevancy is one of the most important ranking factors for Google.
Google ensures that whatever its users search for is met with relevant results that help them solve problems.
Assume you were searching for an organic makeup company on Google and clicked on the first result.
Consider a company that sells a few organic makeup products but is not a 100% organic makeup brand.
Seeing this as the top result on Google when it does not match what you were looking for is likely to frustrate you.
This type of situation would make people less likely to trust Google and use its platform in the future, which is why
Google prioritizes relevance.
The second important factor for Google is its usefulness.
Google is very concerned with the user experience. As a result, Google will scrutinize several metrics to determine how users react to your website.
Are people quickly returning to the search engine page after visiting your website?
Or are they staying for an extended period of time because they found your website helpful?
How are users reacting to their time on your website?
Consider another example.
Assume you're looking for the best running shoes.
When you click on the first result, the website takes more than a minute to load, has broken links, and only a limited selection of running shoes.
In a real-world scenario, you probably wouldn't even wait the full minute for the site to load to see the rest of the errors.
However, if you did make it to the site, this hypothetical website would most likely have a very high bounce rate, due to its lack of resourcefulness and organization for the visitor.
All of this would result in a drop in its ranking on search engine results pages.
On-page SEO Management
Now that you know more about Google's algorithm, let's look at some actions you can take to make your website more relevant and useful.
Let's start with on-page SEO.
On-page SEO is critical to SEO management because it includes all of the elements on your website or blog.
On-page SEO includes your title tag, meta description, internal links, and other elements.
1. Title Tag
The heading that users see on search engine result pages is the title tag.
People will click on the headline to visit your website or blog.
A title tag's purpose is to serve as a headline for your website while also summarizing the content on your page.
Because this is the first thing people see before clicking on your website, it must be engaging and contain your targeted keywords.
The more specific your headlines are, the more users will be drawn in and intrigued.
2. Meta Information
This is the brief summary or blurb that appears beneath your title tag.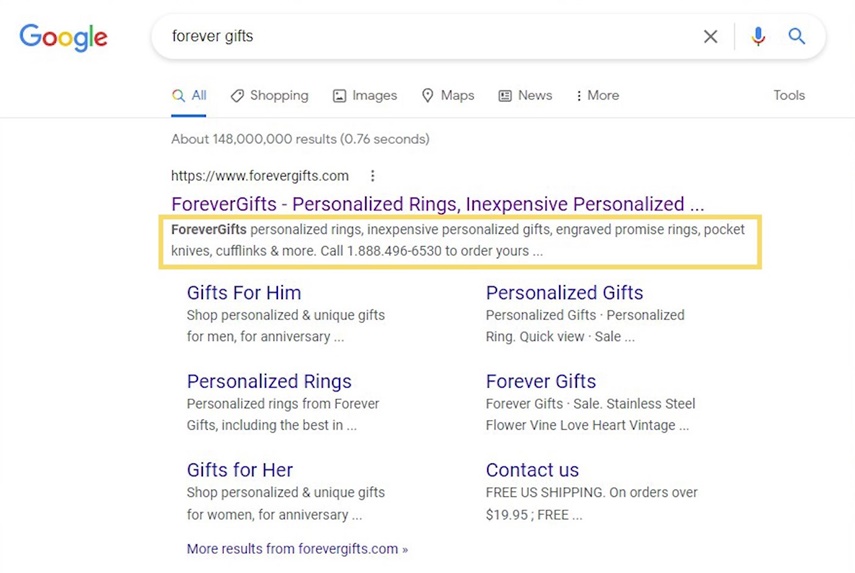 Users can read this to gain a better understanding of your website's content in relation to the keywords.
The typical meta description is 160 characters or less. So keep it brief, to the point, and to the point.
Meta descriptions are significant because they serve as natural ad text.
This means that your meta description is as important as your ad copy.
The more interesting and specific your meta description, the higher the click-through rate, and Google will reward you for it.
So, if you want to rank higher on SERPs, make good use of your meta description.
3. Internal Linking
When you link to another page on your website, this is known as internal linking.
So, if you're writing an article about "8 Easy Dinner Ideas on a Budget" and talking about ingredients for a specific recipe, you can link to a page with your brand new pasta sauce within the list, directing people to your product.
Keep in mind that these links should be relevant and useful to your audience.
Internal links, when used correctly, can help your readers navigate your website and find new and useful information for their pain points or goals.
When people click on your internal links, it benefits your SEO.
This is because it drives traffic to the website and encourages visitors to stay for the useful information.
Google will notice this and conclude that your website is extremely beneficial to customers.
4. Keyword Analysis
Although it is the last item on this list, it is not the least important.
In fact, keyword research may be the most important aspect of SEO because it allows people to find your company!
Keywords should be used throughout your website or blog in order for it to rank higher.
Use your keywords naturally throughout your title tag, meta description, and other pages.
More specific and targeted keywords will result in a higher conversion rate.
You will also face less competition in ranking for it against other businesses.
You should aim to include your target keywords in the first and last 100 words of your content, at the very least.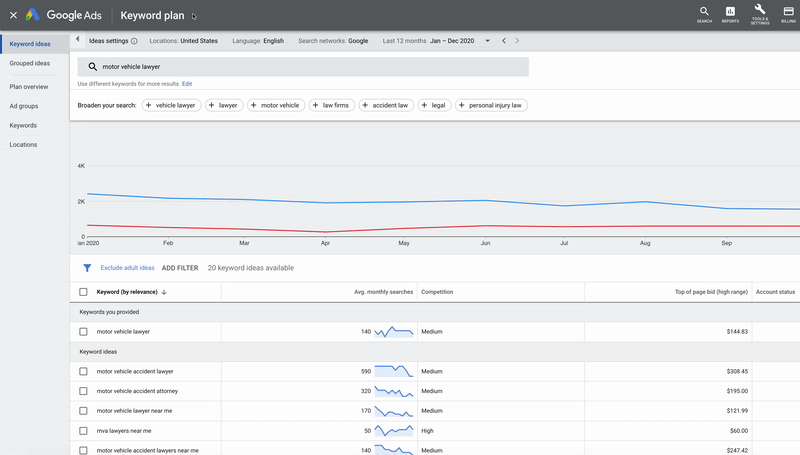 Using keyword implementation, title tag and meta description optimization, and internal linking, your on-page
SEO tactics will undoubtedly help you see results!
Off-Page SEO Management
Moving on to the final aspect of SEO management, off-page SEO. This includes page optimization, backlinks, and other factors.
In this step, you are attempting to persuade Google to trust your website.
Even though these elements are not directly changeable, there are ways to improve your chances of having these elements work in your favor.
1. Creating Links
Backlinks are generated when another website links to one of your website's pages or blog. These are crucial to the Google algorithm.
Off-page SEO, as previously stated, is all about persuading Google to trust your website.
If other websites link back to yours, Google will see that your website is trustworthy.
Why should Google trust you if other companies don't?
Backlinks are critical for increasing your search engine rankings.
So, do everything you can to obtain as many backlinks from other reputable websites as possible!
2. Creating a Guest Post
A guest post is when you write content for another company's website.
Typically, this will be a shared or relevant topic between your website and the company for which you are writing.
In exchange for writing content for another company, you will receive an external backlink to your own website or blog.
Guest blogging is a great way to double your audience size!
You not only get to write for another audience, but you also get to promote and share that content with your own!
A larger audience means more website visitors, which Google will track.
3. Page Optimization
Google places a high value on page optimization and user experience.
This includes checking for broken links, scattered text, slow loading speeds, and other issues.
Even if the content on an unfriendly website is actually useful, the way the website is structured will be a huge turn-off for customers.
People make a first impression of your website or blog in 1/10 of a second.
If the content on a website is unappealing, 38% of people will abandon it.
Although you cannot directly influence how much Google trusts your website, you can use off-page SEO techniques to improve your chances.
SEO Management Tips
As we mentioned earlier, we have three additional bonus SEO management tips for you.
Tip #1: Make longer content.
Good content attracts more backlinks, adds value to your readers, and helps your rankings.
Simply put, longer content ranks higher in search engines. Nobody ever links to a 400-word-long article or blog.
Longer content ensures that you cover all aspects of your topic or keyword.
That is impossible to do in 400 words, or at least it would be extremely difficult!
You should spend the time necessary to thoroughly explain the topic to your reader, ensuring that you are providing relevant, valuable, and useful information.
To get your reader's attention, try using hooks.
You can do this with case studies, statistics, a tool, research, and much more!
Remember what we did at the start of this post? We began with a case study!
This will not only help your reader, but it will also help Google see that your website is valuable to its users.
Tip #2: Use distinct images.
Photographs taken with your phone or your own illustrations and graphics are examples of unique images.
What's wrong with using stock images, you might ask? It costs nothing and takes less time.
We understand, but if you want your website to stand out and appear unique, use unique photos.
So many websites are overrun with stock photos. And, with new websites appearing on Google every day, it's critical to stand out.
The more unique the image you use, the better the user experience your readers will have.
Additionally, they are more likely to remember your website.
Tip #3: Make use of LSI keywords.
LSI is an abbreviation for latent semantic indexing. These are words that are closely related to the keyword you want to target.
Simply put, these are the words that appear next to your targeted keyword on Google.
These keywords are an excellent way to improve your rankings.
By employing keywords that are similar to your targeted keyword, you will undoubtedly cover more of your overall topic, making it even more useful to your readers.
As previously stated, the more people who enjoy and find your content useful, the more traffic you can generate and the higher your website will rank.
And that is how different SEO management services can help you manage your SEO.