Are you interested in using SEO reporting software for your clients but don't know where to begin? Perhaps you'd like to switch things up from what you're using now, or you'd like a simpler way to navigate analytics.
Implementing SEO reporting software that works for you and your clients is critical no matter where you are on your path to measuring SEO performance. This article will begin to deconstruct some of the most popular tools in the business that can supply you with all of the statistics you require.
We'll go through the following topics:
What are SEO reporting tools?
Some of the most often used SEO agency tools
How to make the best client reporting options for SEO.
Resources for learning more about SEO
Continue reading to learn how to use SEO reporting software to start measuring what's working (and what might be improved).
Explaining SEO Reporting Tools
Search Engine Optimization, or SEO as it's more often known, is a critical tool in our digital content toolbox. However, if you can't measure your efforts, how will you know if they're working? This is where SEO reporting software come in, as they offer analytics in the form of an SEO report.
Let's say your client has begun to incorporate SEO keywords into their digital content on their website. After thirty days, you'd like to know if employing those terms yielded any quantifiable outcomes.
An SEO report will offer you with data for that time period. These progress reports allow you to identify whether or not techniques are working in real time, allowing you to make changes as needed.
SEO reporting software comes in a variety of forms and prices. Paying for software will usually allow you to explore more advanced analytics that a free version may not allow you to do. However, determining what you want to measure from the outset will assist you and your clients choose the correct tools.
Furthermore, SEO reporting software is available both online and as a downloadable application on your PC. When selecting software, it's critical to consider how many people will be using it. Finding software that requires logging in may be more efficient if your entire agency requires access.
Popular SEO Agency Tools
When choosing an SEO agency product to utilize for your clients, especially one that includes processing sensitive data, you must choose one that you can trust. Although there will never be a flawless piece of software, many can provide a variety of useful tools and insights.
The three most popular SEO reporting software utilized by agencies are shown below. Each piece of software will include an overview, some of the features it includes in its SEO report, a pricing, and a direct link to try it out for yourself.
Unamo is a platform that focuses solely on SEO analytics, making it easier to navigate the SEO industry. Unamo is a wonderful alternative if you're not sure what should put into an SEO report because it covers a lot of crucial aspects, such as daily keyword rankings, industry comparison, local SEO performance, SERP features, and more.
SERP Screenshots is one of the SERP features supplied by Unamo. The acronym SERP stands for Search Engine Results Page, which is the page that shows after a search engine query is entered.
When using typical SEO techniques, the goal is to make the material appear high on a search results page so that it is more likely to be clicked on. With SERP Screenshots, you'll get daily updates on your rankings and where they appear, allowing you to make modifications as needed.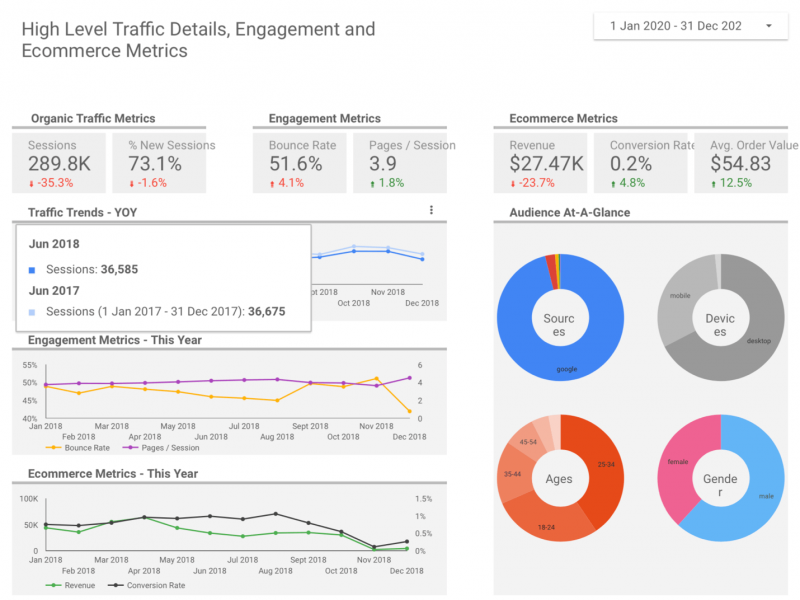 Google Data Studio gives you a free, in-depth look into SEO statistics utilizing data from data sets you can link it to, such as AdWords, Google Analytics, YouTube, BigQuery, social networking platforms (Twitter, Facebook, Reddit, and more).
Similar to other Google tools, Google Data Studio provides its users with the opportunity to visualize their data, as well as the option of sharing and working with other users, making the application incredibly user-friendly.
The numerous templates available in this software are something that jumps out. The large selection gives you greater flexibility in terms of where you want to get analytics.
Google Data Studio provides a blank document where you may create a dashboard utilizing SEO specialized analytics if you want to start from scratch and customize your report. With this software, the SEO possibilities seem limitless.
SEMrush is a prominent tool that offers a variety of tools that may generate reports on SEO, keyword research, numerous marketing insights, rank tracking, and traffic analytics, among other things.
One of the software's beneficial features is its "competitor SEO analysis," which allows you to observe what your competitors are doing and change your strategy accordingly.
It offers a highly user-friendly design that makes looking for analytics quite simple. SEMrush, which is regarded as an all-in-one tool, takes care of everything and offers you with a comprehensive SEO report to share with your clients.
Making the Best Client Reporting Decisions in SEO
Although there are numerous SEO agency tools to choose from, what happens after you've chosen one and run a report? Receiving a "good" SEO report is not always as positive as it appears when providing SEO client reporting. Because each client is unique, it may be necessary to prioritize some SEO best practices above others, even if this results in a lower SEO report score.
Changing the web hosting service where digital content is stored, for example, is something to consider. Web hosting and SEO optimization are inextricably linked, as it's critical to choose a web hosting firm that understands SEO best practices.
Furthermore, on-page SEO optimization and web design can help enhance SEO report scores, which may benefit your client(s) in the long term. These are the kinds of things to think about while putting together an SEO client report, even if they don't appear in SEO reporting software.
Wrapping It Up
It's critical to choose SEO reporting software that works for you and your clients, but you should also be open to new approaches to optimize that the program may not supply. For different approaches to incorporate SEO practices inside your digital material to produce optimal results, check out our thread of SEO-related posts.